Cover Letter Action Verbs
The most powerful action verbs for professional resumes
Your career history will pack an even bigger punch with these dynamic words.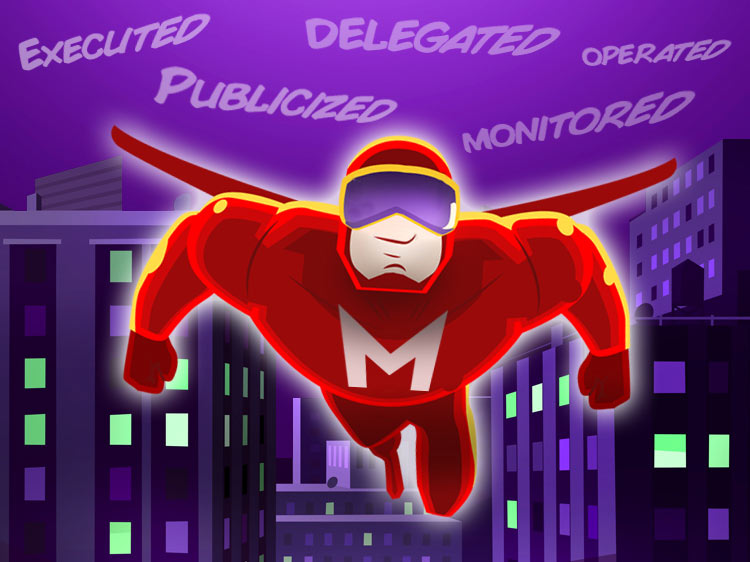 Your resume isn't a place for modesty; it's a chance to show companies all the awesome things you've done—and what you can do for them if given a chance. Take the opportunity to liven things up a bit. Weak, vague or overused verbs can actually diminish the excellent work you did at your last job, so choose words that more accurately reflect what you do.
"It's critical to choose active, industry-appropriate action verbs," says Linda Hollenback, a brand and career strategist who owns Philadelphia-based Hollenback Consulting. "Well-chosen lead action words make the difference between highlighting your skills and undermining your contribution."
To help your credentials pack the maximum punch, Monster created a list of strong action verbs to make your resume more powerful.
Action verbs for communication skills
Instead of: talked, led, presented, organized
Use: addressed, corresponded, persuaded, publicized, reconciled
You can present data and lead meetings all day long, but does that mean you actually got your point across to an audience? Simply saying that you talked to other people doesn't prove that you achieved your goals.
Stir the interest of a hiring manager by using words that have a bit more personality than the usual suspects. That might encourage him or her to want to meet you in person.
For example, instead of saying you "organized" an off-site meeting, say you "orchestrated" an off-site meeting. And instead of "leading" the meeting, perhaps you "chaired" the meeting.
"'Persuaded' is another great verb to use," says Christina Austin, founder of New York City–based ExecBrands, a career-branding firm, "as it highlights a candidate's ability to influence others."
More precise words can also add a touch of formality to your actions, she says. Words like "addressed" or "corresponded" can carry more weight than a generic "wrote" or "spoke."
Action verbs for organizational skills
Instead of: organized, ordered, filed
Use: catalogued, executed, monitored, operated
Did you organize a project, then walk away? Probably not, so choose words that express how you organized and followed through with a project to completion. For example, "executed" says that you saw it through to the end.
"By focusing on the task rather than the purpose or significance of the task to the organization, a job seeker may limit the perceived value of his or her experience," Hollenback says. Instead of "filed account paperwork," she suggests something more descriptive of your purpose, such as "monitored client accounts."
Action verbs for management skills
Instead of: led, handled, oversaw
Use: consolidated, appointed, delegated, established
Leadership experience is excellent for a resume. However, just saying you "led" a team is not nearly as powerful as saying you "established" a team, which indicates you took the lead to create something new.
"A word like 'oversaw' hints that someone is supervising work on a high level, but not necessarily participating in a project actively," says Andy Chan, co-founder of Prime Opt, a Seattle-based career-coaching center. Pick words that reflect the true nature of your contribution. For example, "Established a nine-member productivity team and delegated operational tasks to three junior managers."
Each of these verb choices combines to give the hiring manager or recruiter an impression of your work style—just be sure to avoid repeats. "Multiple repetitions of an action word reduces the word's impact and makes for a boring read," Hollenback says.
Grab your dictionary or thesaurus if you're feeling stuck, and when you're done, be sure to have a trusted friend or colleague read over your resume to make sure it reads properly.
Led…
Handled…
Managed…
Responsible for…
Most resume bullet points start with the same words. Frankly, the same tired old words hiring managers have heard over and over—to the point where they've lost a lot of their meaning and don't do much to show off your awesome accomplishments.
So, let's get a little more creative, shall we? Next time you update your resume, switch up a few of those common words and phrases with strong, compelling action verbs that will catch hiring managers' eyes.
No matter what duty or accomplishment you're trying to show off, we've got just the verb for you. Check out the list below, and get ready to make your resume way more exciting.
If you were in charge of a project or initiative from start to finish, skip "led" and instead try:
Chaired

Controlled

Coordinated

Executed

Headed

Operated

Orchestrated

Organized

Oversaw

Planned

Produced

Programmed
And if you actually developed, created, or introduced that project into your company? Try:
Administered

Built

Charted

Created

Designed

Developed

Devised

Founded

Engineered

Established

Formalized

Formed

Formulated

Implemented

Incorporated

Initiated

Instituted

Introduced

Launched

Pioneered

Spearheaded
Hiring managers love candidates who've helped a team operate more efficiently or cost-effectively. To show just how much you saved, try:
Conserved

Consolidated

Decreased

Deducted

Diagnosed

Lessened

Reconciled

Reduced

Yielded
Along similar lines, if you can show that your work boosted the company's numbers in some way, you're bound to impress. In these cases, consider:
Accelerated

Achieved

Advanced

Amplified

Boosted

Capitalized

Delivered

Enhanced

Expanded

Expedited

Furthered

Gained

Generated

Improved

Lifted

Maximized

Outpaced

Stimulated

Sustained
So, you brought your department's invoicing system out of the Stone Age and onto the interwebs? Talk about the amazing changes you made at your office with these words:
Centralized

Clarified

Converted

Customized

Influenced

Integrated

Merged

Modified

Overhauled

Redesigned

Refined

Refocused

Rehabilitated

Remodeled

Reorganized

Replaced

Restructured

Revamped

Revitalized

Simplified

Standardized

Streamlined

Strengthened

Updated

Upgraded

Transformed
Instead of reciting your management duties, like "Led a team…" or "Managed employees…" show what an inspirational leader you were, with terms like:
Aligned

Cultivated

Directed

Enabled

Facilitated

Fostered

Guided

Hired

Inspired

Mentored

Mobilized

Motivated

Recruited

Regulated

Shaped

Supervised

Taught

Trained

Unified

United
Were you "responsible for" a great new partner, sponsor, or source of funding? Try:
Acquired

Forged

Navigated

Negotiated

Partnered

Secured
Because manning the phones or answering questions really means you're advising customers and meeting their needs, use:
Advised

Advocated

Arbitrated

Coached

Consulted

Educated

Fielded

Informed

Resolved
Did your job include research, analysis, or fact-finding? Mix up your verbiage with these words:
Analyzed

Assembled

Assessed

Audited

Calculated

Discovered

Evaluated

Examined

Explored

Forecasted

Identified

Interpreted

Investigated

Mapped

Measured

Qualified

Quantified

Surveyed

Tested

Tracked
Was writing, speaking, lobbying, or otherwise communicating part of your gig? You can explain just how compelling you were with words like:
Authored

Briefed

Campaigned

Co-authored

Composed

Conveyed

Convinced

Corresponded

Counseled

Critiqued

Defined

Documented

Edited

Illustrated

Lobbied

Persuaded

Promoted

Publicized

Reviewed
Whether you enforced protocol or managed your department's requests, describe what you really did, better, with these words:
Authorized

Blocked

Delegated

Dispatched

Enforced

Ensured

Inspected

Itemized

Monitored

Screened

Scrutinized

Verified
Did you hit your goals? Win a coveted department award? Don't forget to include that on your resume, with words like:
Attained

Awarded

Completed

Demonstrated

Earned

Exceeded

Outperformed

Reached

Showcased

Succeeded

Surpassed

Targeted
Want some help making your resume over? Hire a coach.
What are you waiting for?